During the hot summer months, the largest portion of your electric bill will probably result from your air conditioning.

Polk County Heating & Cooling helps our customers stay cool and save a comfortable amount of money-
Our air conditioners range in efficiency from 13 to 18+ SEER
(among the highest efficiency ratings in the industry)

We feature the American Standard products that offer a wide range of comfort choices, plus exclusive state-of-the-art technology that quietly, meticulously and efficiently conditions your air. Get ready for a level of comfort you and your family may never have experienced before.
During our personal evaluation and consultation, we will show you the best product for your home and family's comfort.
Call us now to schedule your free evaluation.
---
For New Installs We Recommend

Platinum ZM© Air Conditioner
Also known as the Allegiance 20 Air Conditioner.
This top of the line air conditioner features two-stage cooling and helps you save up to 60 percent on your cooling energy usage when compared to a unit with 8-10 SEER (stands for Seasonal Energy Efficiency Ratio)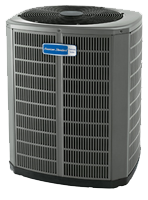 See More Products and Information on
American Standard Air Conditioners